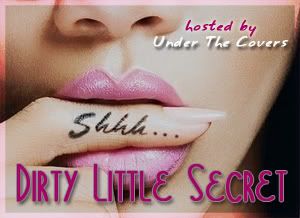 Dirty Little Secret is a weekly meme hosted by
Under the Covers
. Every Thursday they get to know other bloggers and readers more intimately by asking them a question hoping to reveal their dirty little secrets.
To participate in the meme all you need to do is:
1. Be a follower of
Under the Covers
.
2. Create a post in your blog taking the meme image (code above) and copy instructions.
3. Answer the question they propose! This can be done in any way you like, post a video, write a post etc.
This week's question is:


"All your favourite characters and celebs have been entered into the SEXY OLYMPICS! Who would win your Gold, Silver and Bronze and why" Pick only characters from books you've read THIS year.
Wow... It's been a really long time since I joined a meme...
I saw the post of my blogger friend
TToria
and I thought it'd be fun since everyone's in an Olympics mood =D
Here's my list:
GOLD: This has been really hard, as I've been conflicted between two, but at the end, hunky Horseman has won over scary-but-sexy vampire, so here's my choice. Ares from the Lords Of Deliverance series by Larissa Ione. Come on, he's one of the four Horsemen, and he makes you hot just by looking at you, how can you not give him the gold medal?
SILVER: As I said above, this has been really difficult, but my silver medal goes to Christian from The Last Girl by Kitty Thomas. Please don't tell him because he's really scary and I don't want to be killed or chained in a dungeon (although I'd enjoy some of the things he'd do, lol).
BRONZE: My bronze medal goes to Gavin from Maid For Pleasure by Lucy Rodgers. Although it'd be wonderful to be stuck in an island with a hot guy who owns it and who'd do you 24/7, I'm no maid and I don't like chores. LOL
So... who would give these medals to?